Men having modest height are often unconfident of their fitness. Do not think negatively, let take action to solve the problem. Besides having a diet and exercise in moderation, the way you dress also supports greatly in helping you higher that many people do not know. Today, we would like to reveal recipes for you to help improve your height.
Choosing Clothes
Because having the short body, you should avoid choosing baggy clothes and need to wear neat clothes which are as gentle as possible. When choosing costume designs, you should find the shirts with the stripes running along, the V-neck to highlight your neck, or you can use fashion accessories such as the short tie, the necklace of medium length.
Choosing Shoes
Firstly, the size of the shoes must be matched and fit your feet.
No matter how the design of the shoes is, size is always an indispensable factor in choosing shoes and this factor is always given the priority top. This is applied for every body shape, not for short people only, you cannot wear a pair of shoes that is too wide or too tight for your feet size. If you want to create a sense of security and peace of mind while moving, the shoes you buy should certainly be fit to your feet.
Secondly, you should also avoid buying kinds of high neck shoes.
Your legs will look a lot shorter if you wear turtle-necked shoes or boots. They are the "culprits" who denounce your preeminent figure. Therefore, you should choose the neat and slim shoes which are fit your feet as well as having suitable colors to your clothes.
Thirdly, do not choose the cumbersome sample of shoes.
Slim and neat designs will help you to have highlight and sense of increasing the height significantly. In contrast, the cumbersome, mannered or sophisticated forms of shoes will not make you look taller. The most exact way and accurate type are men shoes with round toe, neat and slim model.
Fourthly, selecting soled shoes for men.
Read more: best walking shoes for men
Soled shoes will definitely help you increase the height significantly, usually from 7-10 cm. Currently, there are many styles and designs of men's shoes to help increase height at many different prices. We advise you that you should choose kinds of men's shoes which increase your height without disclosure. These kinds of smart shoes are sold at many shoes system on the internet and the other people will not realize that you are wearing those shoes. This helps you to walk confidently and comfortably.
Besides, if you do not have a pair of soled shoes, you can also choose to buy for yourselves some shoes pads to increase height, this can help to improve your figure quickly and save money.
Finally, if you are officers, let select the type of men's shoes with round toe for your work.
This is probably the best choice for every figure or age because of their traditional nature and simplicity. These shoes are particularly suitable for short men.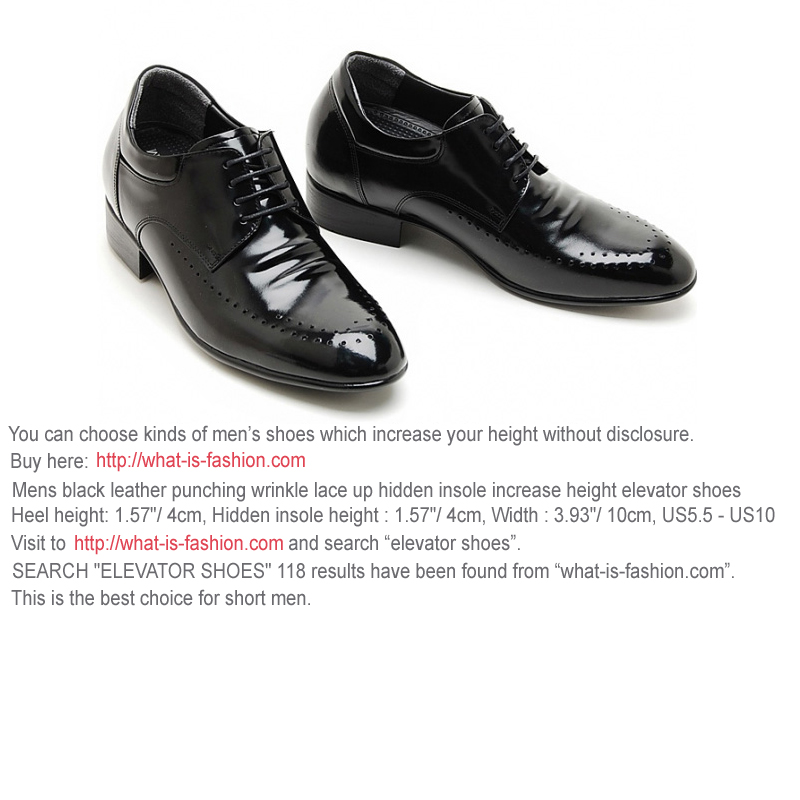 Save
Save